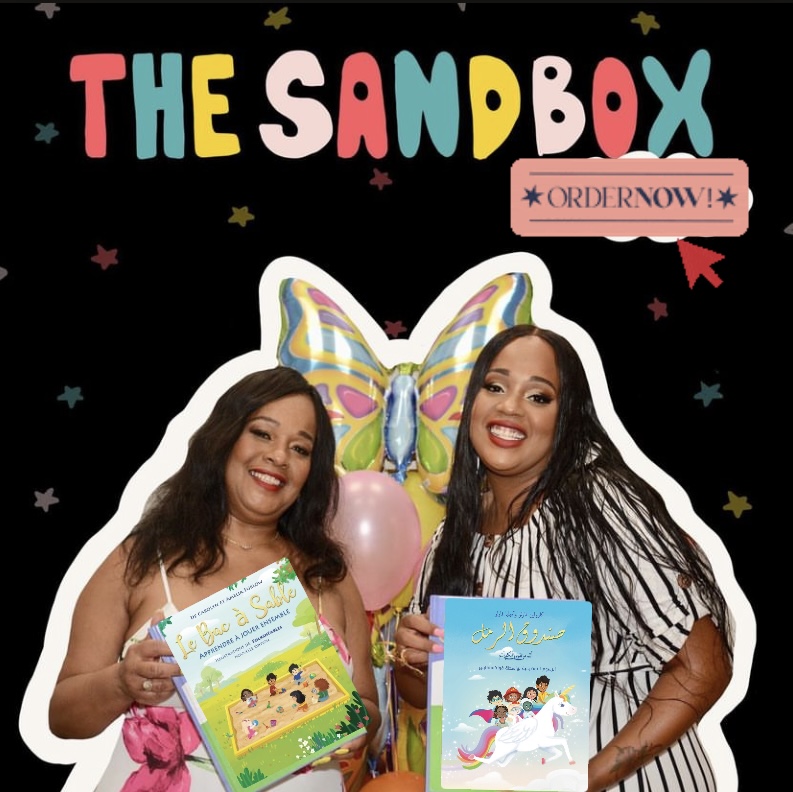 WELCOME TO THE SANDBOX
In a world full of brilliant colors across the globe, the beauty of its reflection can and should be evident in our literature and art. This series is designed to spark the imagination of our youth who eagerly set out to see similar representations of themselves, while simultaneously discovering and embracing the differences in others. The Sandbox Series is a wonderful collection of stories that teach children the beauty of embracing their differences. With each turn of the page, children journey through cultures, exploring the tapestry of humanity woven from threads of different backgrounds and traditions. By spotlighting the beauty in our differences, this series redefines narratives, offering young readers a positive mirror reflecting a world where every ethnicity is valued. It's a profound narrative, weaving dreams of unity and understanding, where the brilliance of diversity shapes the future.
The Foreword to The Sandbox Series
The Sandbox: A Story of Inclusion and Embracing Differences, touched my heart from the first moment. I have lived in my own flesh moments of discrimination due to the color of my skin, my accent and my nationality and I cannot even imagine what situations of this type can cause in our children. This book combines in a way rich in words, colors and examples the importance of respect and acceptance. With an entertaining language and a common story of play between children, parents will be able to teach their children values ​​that will last a lifetime. 
For this reason, I feel honored to be part of a project aimed at them, the most vulnerable and caring members of our society. Inclusion and respect for others should be a natural habit in our homes, and as parents we have an obligation to show our children the incredible wealth of differences from their earliest years, and this book shares this beautiful message.
—Ana Cruz Hollingsworth, Journalist, presenter and producer of Radio and Television
The author, Carolyn Furlow, has a Master of Arts degree, in Creative Writing, A Bachelor of Science in Interdisciplinary Studies and a double minor in Psychology and African American studies. She is the mother of 3 adult children and a grandmother to two darling granddaughters, Imani and Avianna and two vibrant grandsons Ivan and Isiah. As a teacher she has experienced first-hand the faces of isolation on students who feel disconnected to the lessons and reading materials in their classrooms. In a spirit of love and high regard for all children she and her daughter, Amelia Furlow, have created a series of stories which speaks to all children and allows them to feel connected to the stories they read in classrooms and at home. The world is a visible melting pot of beautiful children across the globe. Our stories reflect their presence and fosters acceptance and respect for differences.
The author, Amelia Furlow is currently a Marriage and Family Therapy Intern with a specialization in Trauma Studies. She received her Bachelor of Arts in Afro-American Studies from California State University, Los Angeles. She is passionate about humanity and civility and is currently enrolled at the University of Southern California. Amelia saw a need for more diverse stories to be told within children's books. One of her favorite hobbies is writing and creating fun stories with her mother. She collaborated with her mother, Carolyn Furlow to create a series of children's books that highlight the similarities as well as the individuality of being human. Telling stories that celebrate one's uniqueness and sameness allows children to embrace the skin they're in. Having grown up in Los Angeles, Texas and Chesapeake Beach, Maryland; Amelia experienced the power of diversity at a very young age. Today, more than ever, children need to feel included, this series not only offers inclusiveness, but it also brings cheer to those who read it!